Here at Sali's, we aren't just experts in residential roofing. We are also practiced and well equipped to handle roofing jobs of all types, including commercial buildings. Whether you need roofing services done for a business, mall, church, factory, or anything else, we can get the job done the right way for the right price. Whatever type of building you may have, if it has a roof, we've got you covered!
Commercial Roof Inspection and Repair
Commercial roofs are subject to a lot of wear and tear from the environment and must be properly maintained in order to prevent leaking and other damage. Our commercial roofing experts know just what to look for during roof inspections to get an accurate assessment of the current state of your roof. With this information, we can make suggestions on repairs or replacements you may need in order to keep your business running seamlessly.
Here at Sali's, we provide full-scale commercial roofing services – repairs, replacements, coating, drainage systems – whatever it may be, on any type of roof your building may have. We know how and where to source quality materials for your specific job, and we always prioritize getting our work done the right way, quickly, and at an affordable price. Reach out today for your free commercial assessment.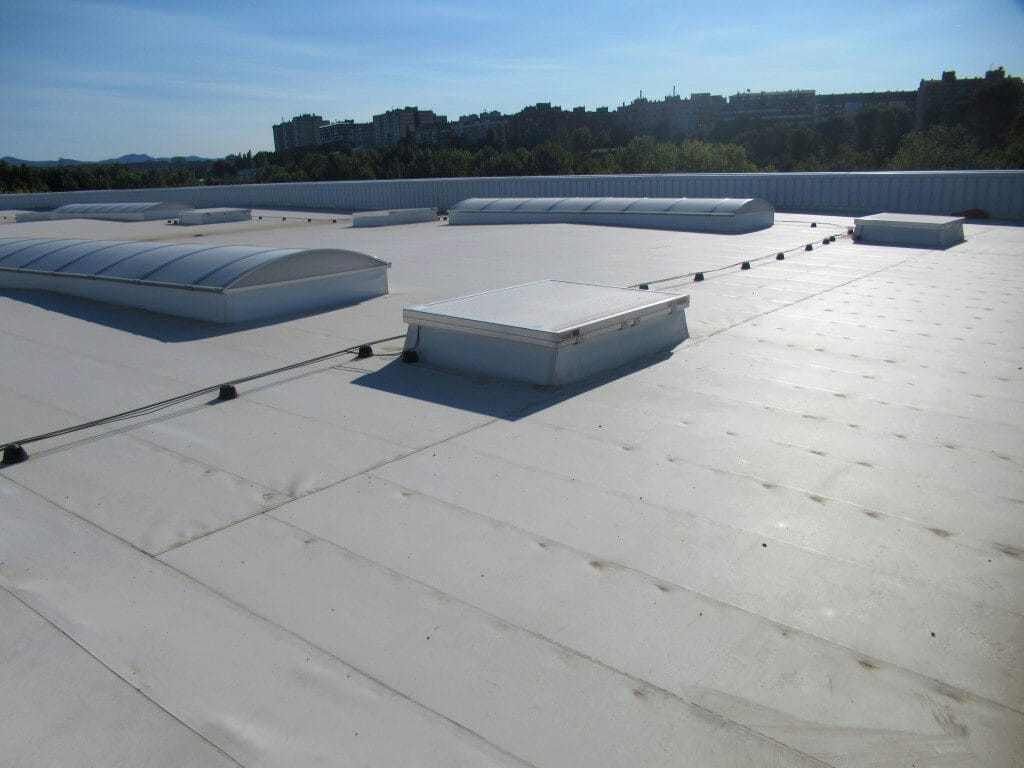 Commercial Roofing Services
Here are some of the services we frequently provide for commercial jobs. If what you need isn't on this list, be sure to contact us and we can certainly find the right people to help!
Sometimes a storm rolls in and causes minor damage to your building's roof. In those cases, we can oftentimes alleviate any problems and prevent future complications by performing quick roof repair services.
Our roofing experts have countless hours in the field detecting and diagnosing roofing problems through inspections which we provide free for all of our customers. If you're not sure what's wrong with your roof, we'll hop up and figure it out for you!
All roofs have a lifespan, and sometimes a storm will damage your roof beyond repair. In those events, Sali's knows exactly how to get your building's roof replaced as quickly and as affordably as possible to get your business back up and running in no time.
Roof coating can be a quicker and cheaper alternative to roof replacement if applicable on your building. Coating prevents leaks and increases the lifespan of your roof by sealing it in a waterproof, UV-resistant membrane.
Metal Roofing Installation
Installing metal roofing offers many benefits in terms of durability, longevity, and low maintenance costs. Metal roofing is a great long-term option if you are interested in keeping your building highly protected from the elements.
Keeping your building's roof well maintained is critical when it comes to keeping your business operational and minimizing liability. We offer routine maintenance programs to ensure your roof is safe and well cared for at all times.